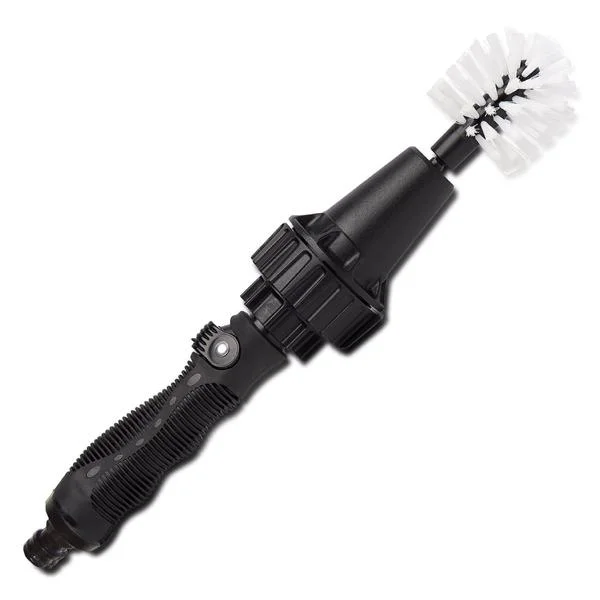 TOP 50 CUSTOMERS GET 45% OFF TODAY !
JUST ADD WATER: No batteries or electricity! 
No need to purchase an expensive car wash!
The higher the water pressure, the faster the speed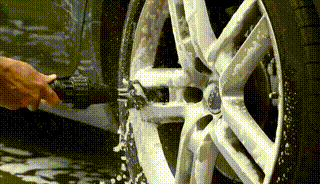 98% Reviews Recommends This Product




About this item

THE ORIGINAL WATER-POWERED CAR WHEEL BRUSH: Say goodbye to the grime, muck, and road dust that lives in your wheels! Also, say goodbye to wheel woolies too! This car rim brush meets all of your car washing and surface detailing needs!

INTERCHANGEABLE HEADS: Includes two wheel brushes for cleaning wheels - 1 soft black brush for sensitive surfaces & 1 tough white brush for any heavy duty muck you come across. But no matter how dirty the job, this wheel brush cleaner can handle it!

STRONG TORQUE: The water-powered wheel cleaner brush provides slow, steady torque for maximum scrubbing power. It is not meant to spin fast, but to eliminate dry mud and grit by working it away with gradual, relentless force.
GO BEYOND THE WHEELS: The wheel cleaning brush cuts through any brake dust and road muck with ease, but -- best of all! -- you can use it on all the exterior surfaces of your car! This wheel well brush won't scratch or chip the paint!

JUST ADD WATER: No batteries or electricity! The Brush Hero tire brush for car connects to any garden hose and is powered by water pressure alone. Simply attach and let our water-powered technology do the work.
WASH OFF
dust covered on wheels for many years

stubborn oil on the chain

moss on flower pots

dirt on garden benches
HELP YOU TO
get rid of the hassle of manual washing

save tremendous effort on cleaning

clean the hard-to-reach corners
FUNCTION
POWERED BY WATER: Operate on water pressure alone, connects to any standard garden hose and generates an impressive amount of torque, providing maximum scrub.
FOR VIROUS OF METERIALS: A soft black brush for sensitive surfaces and a tough white brush for serious muck.
BEST WHEEL BRUSH EVER: Super steady torque and powerful scrub, cleaning wheels that haven't been cleaned in years.