📣With Japan's release of nuclear radiation wastewater into the sea on August 24th, which is about to pollute our natural environment and may cause radiation pollution to humans, we have developed a radiation resistant gemstone necklace to reduce the harm of nuclear radiation to our bodies!
🧙‍♀️Healing Crystal Necklace: This sleek mesh holder keeps your precious gems secure and accessible, allowing you to embrace their energy wherever you wander. Change your crystals every day depending on your mood.
🧙‍♀️Exquisite Craftsmanship: Sturdy coppery cage, tightly fixed, not easy to break and fall off, and can be worn for a long time to promote beauty, health and good luck.
🧙‍♂️Perfect Gift: Our crystals and healing stones necklace is an ideal gift choice during Christmas Day, Anniversary Day, Valentine's Day, Mother's Day, Father's Day and Birthday to your loved one.
🧙‍♂️Place Your Own Stone: Have lots of stones? This Empty Stone Holder is Interchangeable so you can push the knot above the stone and place different ones similar to their size.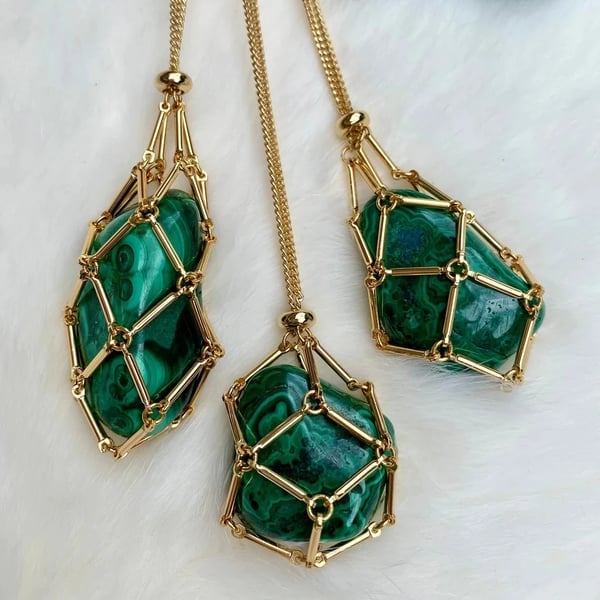 Amethyst: Power, Protection, Wisdom
Citrine: Joy, Success, Self-confidence
Tiger Eye: Power, Courage, Protection

Rose Quartz: Kindness, Unconditional Love
Emerald: Loyalty, Serenity, Harmony
Sapphire: Clarity, Truth, Confidence
Carnelian: Confidence, Love, Vitality
Moonstone: Balance, New Beginnings
Black Onyx: Strength, Energy, Protection
DETAILS
Handmade item
Nickel-free and Hypoallergenic
Material:

Titanium steel(chain) + High quality copper(cage)
Length of Chain: 23.62''+1.96''/60+5cm
Weight:

Chain (10.8g), Crystal Stone (15~25g)
Package1:
1* Crystal Stone Holder Necklace
Package2:
Package of 9 crystals